September 12th, 2016 by MC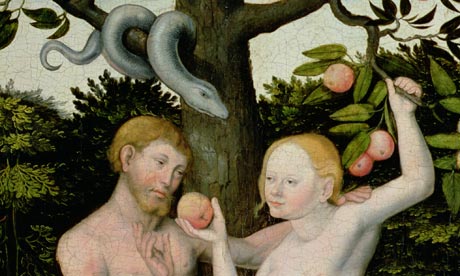 The story of Adam and Eve, Mormonly understood, makes a mockery of the idea of salvation under the Law.
The standard Christian view is that Adam and Eve were given a strict commandment not to eat the fruit, the Serpent tricked them into eating it, so God in his anger cast them out of Eden. The Mormon view is that Adam and Eve were given two commandments which could not both be fulfilled, so one (don't eat the fruit), had to give way to the higher one (multiply and replenish the Earth). Adam fell that men might be.
Elder Oaks explained, more clearly than I can ever hope to, the Mormon belief that what Adam and Eve did was a "transgression," not a "sin":
For reasons that have not been revealed, this transition, or "fall," could not happen without a transgression—an exercise of moral agency amounting to a willful breaking of a law (see Moses 6:59). This would be a planned offense, a formality to serve an eternal purpose.
The obvious theological objection to our doctrine would be: "God is perfect and perfectly just, so why would he give a commandment knowing that it could not be fulfilled? How is that fair?" As Elder Oaks says, the need for such a transgression has never been fully explained, and I admit that this one used to bug me a little when I was younger. Eventually I shrugged it off; it was a one-off deal, so why think too hard about it?
Then I served a mission, got married, had kids, and realized that God gives impossible commandments all the time. (more…)