May 17th, 2016 by MC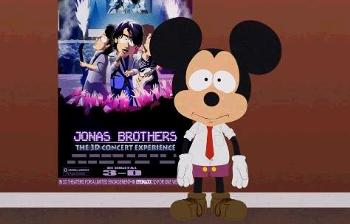 [Note: I did a Google Image Search for "Mickey Mouse Evil," and it came up with this image, which is more apropos for this post than I could have hoped for.]
This is not a Robert Ludlum novel. These are some thoughts, hopefully not too disjointed, about Mormons and The Benedict Option.
I.     "Eeek! A Mouse!"
A few months back, we went to Disneyland with my side of the family. It's a cliché among BYU fans to note how much BYU gear one sees at Disneyland. Now I know why; even if you aren't looking for them, Mormons are EVERYWHERE in the Magic Kingdom. You might think that I only noticed the because I'm Mormon. But my undergraduate school is one that, based on size and distance from L.A., you would expect to be on rough parity with BYU at Disneyland. Instead my college was outnumbered probably 10-to-1.
So yeah, Mormons love Disney. Back in the days of Walt himself, this would hardly warrant mentioning. Christians like good, clean family fun, and Disney = good, clean family fun.
But not all Christians like Disney. (more…)